My win is being allowed back into our build space after school so I can work on the modifications I've been planning over the summer. I've got a new climber almost ready to run and a new intake design ready to be prototyped. It's really fun to be able to robot again.
I was able to teach new and returning students an overview of how command-based programming works virtually. I was quite pleased with much they picked up. Also, I'm now out of quarantine, so I'm not living out of a camper anymore.
Thanks Allison.
Need to see some wins this week. It's been a week.
Best I have is that I have good health insurance and a great employer that cares about their employees needs.
Last week: Having a job.
This week: Finally having the keys, network accounts, and ID badge to do it myself. Oh, and a day of working from home. And it's a three-day weekend.

Tested positive for COVID but my WFTW is that my wife and I are both recovering well!
I spent the greater part of this year without a job.
I landed a job in August.
Now, every week that I am employed is an automatic win!
Got added to a new survival Minecraft server, missed the community of having one

Also got confirmation parts for another project are through customs, so that's fun!
How dare you steal likes! In all seriousness, I was able to finish my midterms for my classes this week. And now am planning to sign up for volunteering next week
Neat! We have a family server and my daughter remarked the other day that she realized that she'd been playing for more than 2/3rds of her life now!
I have Diabetic retina damage and this week I'm getting treatment that will save my eyesight.
Spoilers for those who haven't seen the Overwatch League Grand Finals:
SPOILERS

My boys San Francisco Shock win their second Championship Title after winning in 2019! Love seeing the home team I've been supporting since Day 1 dominate the League, and in back-to-back fashion.
I got a new job! It's a temporary contract position but it's a start. Love these threads and seeing great news from the whole community
I set up Linux on an old desktop that stopped booting Windows for some reason! I'm also using a distribution I haven't really used a lot, but I'm liking it so far.
I started printing mock up parts for my beetle weight combat robot. And I've got more parts coming in for it this week. That's a win for me.
Just put in my new fishpond into the dorm room! Loving it so far!
Stepped foot in the shop for the first time since covid started, and even though it's a new shop to me I didn't feel like I was an outsider. Proud of the decision I made and excited to start a new chapter in my career as a mentor.
It may have been an incredibly stressful week for me, but a nice, long solo walk today was an outstanding way to debrief.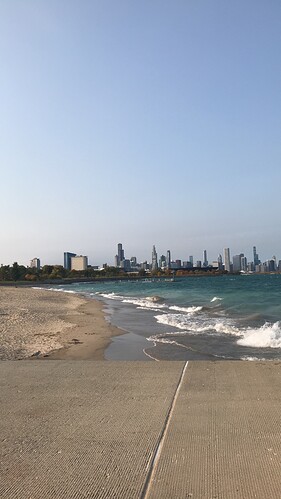 Stop making me miss Chicago.