I think people that can fix this problem in particular are aware of it, and are working on it.
Based on these threads, we're failing miserably.
As far as the tradeoff of working on solutions vs staying at home, Israel is currently in a pseudo-lockdown. You can only leave your home up to 300 ft from your front door, or go to the market, pharmacy, or hospital. Students/mentors on my team working on our delivery robot project were granted special certificates from the hospital exempting them from these restrictions in order to work. We still make sure to follow all of the guidelines about standing 6ft apart and limiting the number of people in a room. I assume the people working on the ventilator got similar exemptions and are taking similar precautions. The hospital decided how many people to exempt for each project, so clearly they think that the tradeoff is worth it.
Me and my friend on the team with two of our mentors are developing face shields and initially we were thinking of donating them to hospitals but due to the quality demand we are now leaning more toward donating to essential services people (grocery stores, food, etc.)
In the near future I may post the full project on Chief Delphi.
Here are some pictures of the CAD I was able to do from home for the project.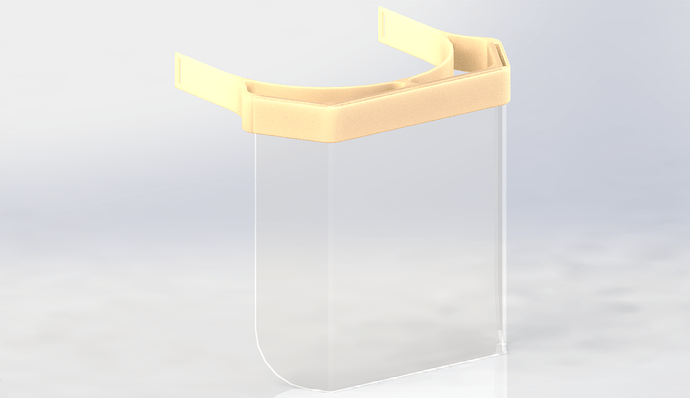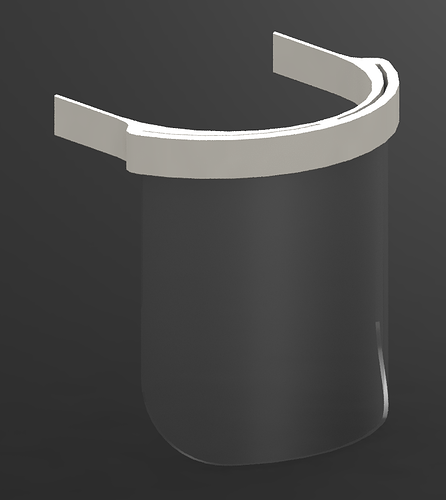 Then here is a picture of some of the prototypes made at the school.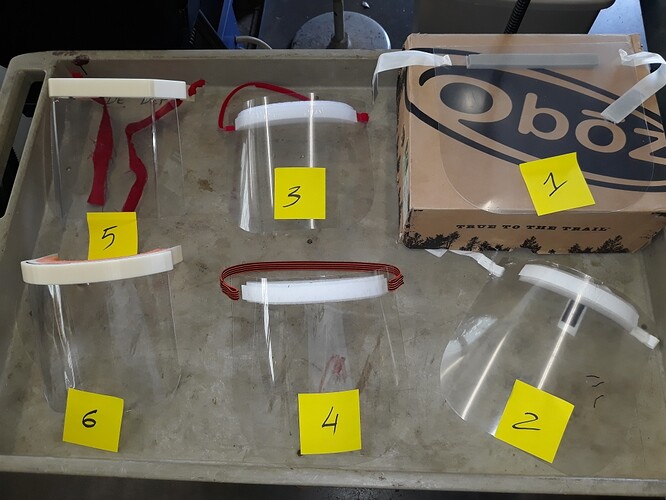 I think what your teams are doing is pretty amazing! Glad that you are keeping safety FIRST

with your social distancing measures while working together.
Not so much with what you're doing, but in many cases, I believe people can work on solutions while staying at home - no tradeoff needed. One of the problems that could even be tackled is "how do we make telework more effective?" If some best-practices and technical improvements to telework could come out of the huge number of people suddenly working at home, and these ideas/tech could be successfully shared, we could positively influence how people accomplish work.
I've printed the prusa shields (18 RC2) and just switched to the RC3 version. But I've only got one printer and it is relatively slow (3.5 hr/shield). The above method with injection molded parts will be much quicker, but still are some supply chain issues, so these slower ones can fill a niche.
Today, I've been looking more at non-printed models, and this one is very accessible, easy, and fast to make: https://twitter.com/GimmeBuilds/status/1242934426939674625
I don't have a feeling whether it is workable in a real environment yet, but I think you could make 5-10/hr/person if you had the supplies and setup to do so.
Here is my prototype I built today, which I found decently comfortable: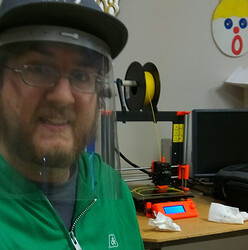 Stay home, wash your hands, flatten the curve
@EricH - just posted to r/firstrobotics; thanks for the recommendation.
I'm not very familiar with Discord - if anyone is active there, please share/expand this discussion with/to those communities!
r/FRC is much more active if you want to post it there too
Also,
here is an invite to the official FRC Discord Page: https://discord.gg/frc
I love seeing all of the face shield prototyping. This community is truly awesome! Our team (FRC 5242) did quite a bit of research on the designs posted by large organizations like PRUSA (the 3D printer company in the Czech Republic), since so many people have already starting working on this PPE shortage problem. The one we've settled on for our team's production is the one posted by Columbia University (https://studio.cul.columbia.edu/face-shield/).
Their design can be printed in a little more than an hour (unless you print two at a time on the print bed). With our small print army of students and mentors who either own 3D printers or are borrowing one from our school, our goal is to produce 1,000 of these per week for the foreseeable future. Our current cost is roughly $0.60 a piece, including filament, 5mil acetate face shields, medical grade elastic bands, and 2-gallon zipper bags. We started a community campaign to raise funds that launched on Tuesday evening (March 31st). In less than 48 hours, we have raised over $5,000 so far.
We have contacted the Dallas County health officials (Texas, where we are) to work out a distribution process that they can approve. We've also been in communication with UT Southwestern to work out when and how they can receive them. If you want to connect with us or donate to this cause, please visit: https://therobocats.com/covid-19-face-shields.
Staying home and creating an awareness online is the only contribution that I can do stop this pandemic.
I don't talk that much on how government should handle situation, I just listen to the protocol of not going out if it is not necessary.