Someone donated a Haas? Legends
It doesn´t run yet but it is a 2´x3´Router from Industrial CNC (fingers crossed it was a good decision!)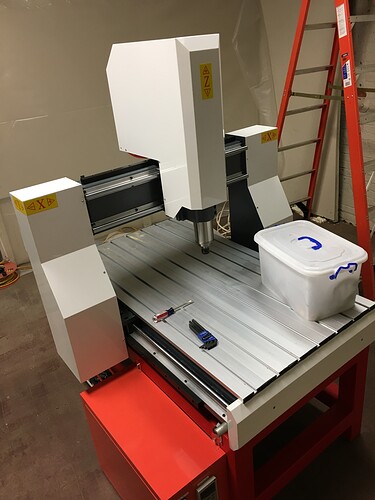 This looks almost identical to the 6090 (2x3) router I purchased from Cowin CNC: http://www.cowincnc.com/html_products/CNC-router-42.html
The little toolbox is the same as the one I have, and the same stickers are on the XYZ axes. The overall construction looks identical with only differences in color, and a taller Z axis cover. If the Cowin is any indication, you're not going to have a good time cutting aluminum with that. Mine has to cut aluminum very slowly and makes horrible noises the whole time (although it will eventually get the job done). Plus, I had mine upgraded to 25mm ballscrews and big 20-25mm linear guides on all three axes. I'm looking at filling the sides with epoxy granite at the moment to try and upgrade the stiffness. If your router can't cut aluminum well, or at least better than 0.3 cubic inches per minute, see if you can return it soon.
With customizations, the machine itself was $2500, then I paid $500 for shipping. Between port fees and tariffs (thanks Uncle Sam) I paid about $4200 to get it to my garage. I've since bought about $800 of tooling, but I don't forsee buying more, even if/when I change routers.
For $7500, you could have bought a Velox. Hopefully yours is a better version of the one I have and outperforms.
Do you happen to have a link to the design files for the bracket you can share?
To be clear, we mounted the fog buster to the wall, and the bracket mounts the noozle of the fog buster to the spindle so it blows air+cutting fluid on to the end mill. If this is what you are looking for, I'll have a look around and see if I can find the file for you.
Oh! That sounds like a similar setup to what we have. I'm looking for a shroud/dust cover that I can mount a vacuum to for use when cutting wood.