A fantastic gift that FMA provided in 2018 at the DCMP were these water bottles. Not only are they simple and functional, it also prevents a LOT of plastic waste at events. I've been bringing this bottle to events now and have saved probably 100+ water bottles worth of plastic from it.
I've even spoken with FMA leadership a bit about having a few water coolers at the event instead of water bottles for the volunteers to even further decrease waste.
That's one thing that's very nice about the Kettering Events in FiM. They have water stations everywhere and it's very convenient for filling water bottles. One plus from the whole Flint water crisis - Kettering immediately installed these filtered water stations.
That sure is an interesting silver lining…
Nearly all of the FMA events are at High Schools which have fountains all over the place, so it was a really practical gift.
Food and snack like you've described have been a standard at this event for the last 5 years, and we have no intention of lowering our standards in that regard.
We're looking to add swag to the event for volunteers to replace the cost of ordering shirts every year.
Personally, I love event-specific shirts, as well as event specific pins. Less love for the generic volunteer shirts, random things like sling bags/fanny packs/flashlights (???). In general the only volunteer gifts I keep are the shirts and pins. I try to avoid picking up other things.
A Leatherman tool (or similar). Shockingly handy. But pricey.
My favorite volunteer gift was this little combo battery bank/flash light from the LAFTC Volunteer crew one year-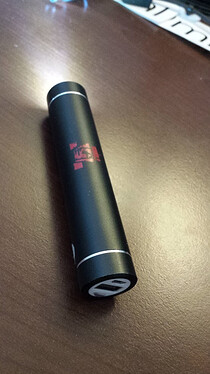 I'm sure it was on the pricier end of swag, but I thought it was super nifty.
We do #1 at Rumble in the Roads, except we offer everyone a shirt (returning or not) but some returning people don't take them.
Having a custom event shirt is a good way for people to identify who are volunteers at the event.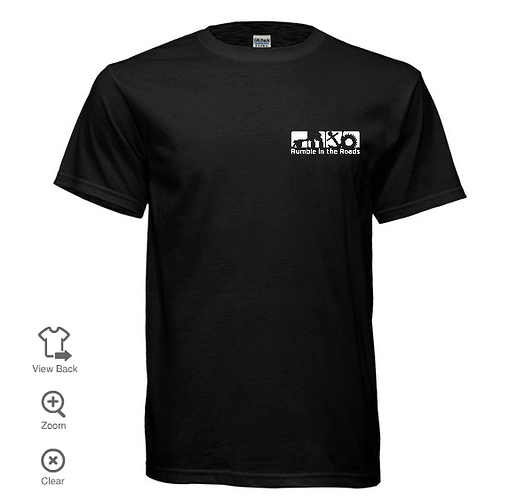 Shirts help identify that you are part of the team. Not many people have told me they see it as a gift. I do have shirts that I wear for annual events year after year.
The best thing I have every received from FIRST is a bottle of hand sanitizer that hangs on your badge lanyard. It has a little loop attached to the top. I use it religiously. The USB battery and flashlight is a nice touch too.
You know, I'm pretty sure they had those before… I remember filling water bottles when I was a student there and that ended in 2011.
These need to be standard issue for anyone in those high five lines at the end of events… Frank, are you listening?
Like others - I'm not a fan of "stuff" for stuff's sake and sometimes the shirts are cool and other times the shirts are just something else that I don't want. Useful stuff is nice:
hand sanitizer
chap stick
reusable grocery bags (never seen anyone do it, but doesn't mean it can't start!)
lanyards/key chains/carabiners
In general, in life, I prefer consumables. I'm picky about what "stuff" I want to keep and I feel guilty throwing away a perfectly good aluminum water bottle.
I really appreciate it when events make it clear what the food will be. I have annoying food restrictions that prevent me from eating the most popular cost efficient dishes (pizza, pasta, bread). I don't expect or demand event catering to go out of its way for me and when they do I am very grateful. Not every event can do that, so I also like to be informed if I need to arrange my own food.
Hi
We run an off season event in northern MN. Most of our volunteers have to travel a considerable distance to work our event. What we have done that has been successful so far.
Try to get very good food ( not just Pizza or a sandwich) and have something available for every meal volunteers are present for.
We provided some hotel rooms for our volunteers traveling a long distance.
We provided swag bags. With things like gas cards, personalized water bottles and such.
Much of these things are asked for in donation from out sponsors and local colleges who have booths at our event.
Also have event shirts for everyone
All of our volunteers have a name tag on a lanyard.
I also volunteer at off-season and regional events in MN. Some off season event shirts are kinda cool and the food at regional events is usually pretty good. But every event I work requires 150++ miles of travel and most often several nights in a hotel on my dime and it can be expensive.
My favorite give away over the past 5 years , is a large water bottle made of Tritan from PWC, I use it everyday at work and love it. Has a nice large handle so easy to carry with other stuff by my pinky , nice capacity, secure top and is unobtrusively clear and easy to clean.
T shirts are good if "cool" like black cool-looking Deep Space with decent logo
Other niceties/make me happiest:
-Good/Great catered Lunch
-Good crew to work with
-Free parking
-Engaged event staff that loves their venue
-TV in rest area to watch the game on key breaks
-Water nearby
-Cool local memorabilia. love the handmade stuff
-Decent venue (some existing events I won't volunteer at)
Being in IT security I would not enjoy random USB stuff (probably not take it)
I'll speak for myself , I love to volunteer my time and it doesn't take much for me to give three (or more ) excellent days (using my PTO,gas, possibly lodging and time) I put my fullest into the role. This to help any attending teams have a great experience at the event. I always try to make the event itself an overall great experience. Then I am satisfied with it personally. Whether my team is there or not, I want to give my best.
DCMP volunteer food in Ontario was GOOD. I'm a simple man, food makes me happy.
I kind of like the shirts, although I've only volunteered at two events, so maybe after the 10th one it might get a bit tedious.
First and foremost, being fed matters. It's not so much the expense, but the convenience. They're giving up their time, and they are running on a weird schedule. Make sure they can eat, and make sure that they can get something even if they end up busy from 1:00 to 2:00 pm. Some people end up having to deal with some situation during that time. Also, not everyone can eat pizza, especially with pepperoni. Consider at least some of the special dietary concerns.
As for alternative swag, it's kind of nice to get something as much as a souvenir as anything else. That's a reason I like the shirts, but I actually wear them as workout clothes. Some people don't ever wear t-shirts, so I guess that's not a good choice for everyone. I personally would never even leave the venue with a water bottle. Takes up too much space. I would say something small that has the event name.
Or…nothing. It's really no big deal. The food and a place to sit, and I second the person who said having a TV to watch the matches when you can't be in the gym/arena. Make it easy to be a volunteer. That's more important than a giveaway gift.
This, by a lot.
When I volunteer, I'm looking for clear communication (wherever possible), food (snacks work) or a chance to go get food, and knowing what I'm doing. Anything beyond that is a bonus.
From the volunteer side, it is incredibly hard to tell who is a volunteer if they do not have shirts, and it is VERY frustrating field-side when you often need to find specific people quickly. Name badges aren't enough; they blend in too well and also can't be seen easily from the back. I'm not sure what your shirts look like now, but shirts are cheapest when they are single color print and are only front/back (no sleeves), so if you do either of those things, cutting them would definitely save a few bucks.
This would be a great alternative to tshirts! (as long as they're washed!)
I'm with Katie on this one - I really don't like stuff for stuff's sake. Everyone will have different opinions on what stuff is "useful" for their particular lifestyle - personally I end up throwing or giving away half of the freebies I get from work, events, job fairs (when I was in college), etc - because I just have no use for them. This is especially true for things that are cheaply made. I'm more than happy to hold on to a good-quality water bottle because I know I'll use it eventually, but I will immediately throw away a cheap keychain with a tiny little flashlight that doesn't provide enough light for anything and will die in a month. My two favorite volunteer gifts have been a lapel pin from an offseason and a sling backpack from CMP 2011 that is still going strong. Unfortunately, I know that nice things usually cost more money, so that's probably not what you're looking for.
Personally, non-tshirt items that I would find useful and wouldn't mind receiving (that might be cost-effective to the event) would be pens, reusable bags (GREAT suggestion Katie!), and carabiners. Mid-price items would be water bottles, bandanas, and plastic sunglasses.
I think that a lot of volunteers would be content with receiving nothing physical. The most meaningful things I can receive as a volunteer are a thank you (verbal or written), good food, and an event that runs on time! The shirt is just a bonus that makes my life easier for a day.
100% on board with the grocery bag. Great way to get people to ask you about FIRST.
Really good idea. I wish I had thought of it.