What is the best way to mount the chain on the carriage in elevators?
run a bolt in-between the links directly into the bar is a very simple way to do it, but it really depends on the design what the actual best way to do it is.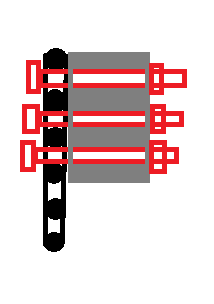 Thank you very much. By the way, what type of chain did you use and what are the measurements of the bolt you used. We will use the #35 Single Strand-Riveted Roller Chain 10' but we don't know which bolt to use ?
That's some chunky chain. If you can move to #25H chain (100lbs ish working load) you'll save a lot of weight.
#25 will take 4-40 screws, and #35 will take 8-32 screws. You can also use 1 or 2 screws and press in pins to replace the other ones - this makes it quick to disassemble when needed.