Hello CD,
I've noticed that on multiple different threads and discussions over the years regarding either the need for a universal scouting application or some variant of trying to get more consistent data. As most of these threads are now either old and locked or not carrying out much productive discussion towards this goal I wanted to start a new thread specifically for this reason. This is not going to be a short post so apologies in advance.
So some background on me. I am not a software developer. So I wouldn't even know how to start coding this. But I have been doing strategy and scouting for 7.5 years (IR gets 0.5 credit we never got to compete). I have worked with some software (mostly hacky webdev and some java) so it's not super foreign to me. But I doubt I could code anything that wouldn't be riddled with bugs and hacky workarounds. My team has used a variety of things in the past ranging from custom developed apps, another team's webapp, google forms and sheets, Tableau, and scouting alliances, with varying degrees of success.
I have always been inspired by other teams' great electronic scouting systems (especially 1678) and would be interested in a discussion of what a universal scouting system would require.
What are some limitations that a "Blue Alliance" for scouting data would need to deal with and what are some potential solutions?
Before we get much further I am aware of https://xkcd.com/927/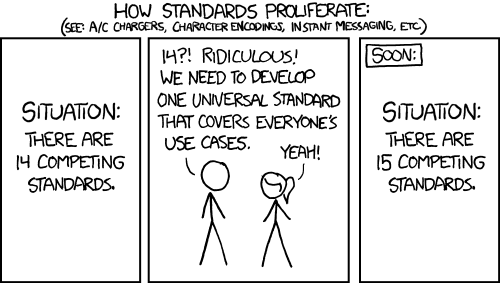 Figured if I didn't post this it would probably end up being posted in the first 5 replies
Just to show I'm not purely looking for other people to do all the hard work I will post some of the things I have thought of
Constraints for a universal scouting system:
The system would have to work on a range of student/parent devices from smartphones to tablets and laptops/chromebooks.

The system would have to work on unreliable/no internet connection and either record data until a connection can be reestablished or transfer data to another device to upload

Servers like to crash at the worst time

Hosting costs for something like this if used at the same scale as Blue Alliance would be substantial (how could this be covered)

How to ensure data accuracy

How to make sure teams don't freeload off the data (put in no work and get everything handed to them) but still account for small teams who do not have the members who can sit in the stands and watch

How to make the data collection easy

Making the system use a minimum amount of someone's data plan

How to do the data analysis (should this be just a csv export or should there be some built in analysis features)

Making the app "good" enough to convince a larger amount of teams to use this instead of spending time developing their own app or system

Getting teams the data quickly (the system is less useful if you can only access it after all quals are complete)

What data do you collect?

Making the system such that it can be adapted to each year and is ready to go by week 0 of competition

Application development should probably be a collaboration of many different teams and open source to help with the longevity of the app
My Initial Thoughts for what a solution could look like
Based on some of the constraints I'm initially led towards thinking a Progressive Web App is a probable way to solve this. https://web.dev/progressive-web-apps/
Initially I'm thinking the data accuracy problem could be addressed in a similar manner to 1678's Scout Precision Rating but this would require having enough scouts using this system at event to have multiple people scouting each robot

I also think the app should probably have an analysis area built into it so that lower resource teams can use the data but should also have a csv export so that teams can develop their own analysis if they want. I really liked the year we used tableau and I think some baked in data visualization would be cool.
I don't know how to solve the freeloader problem but I am initially thinking that all the collected quantitative data should be open sourced and available for use to anyone after the conclusion of the competition. I would love to see what post event analysis could be done with such a data set
What do you think a universal scouting system would need
I am sure that there are more constraints that I am not thinking of. Consider providing your team's perspective because my response is inevitably shaped by the experience that I've had with my team. What would you need a system to do in order to use it over a home grown system? How would you approach making a system for universal scouting if you had to come up with one?