Did you know World Bee Day is coming up on May 20, 2021? Over at Minuteman HS we are doing a school wide integration project surrounding World Bee Day. All the different career major shops are completing bee-related projects, including my Engineering shop. Students in Engineering are researching how pollution impacts bees, choosing a specific type of pollution to focus on, and designing a pollution reduction, mitigation or elimination system aimed at targeting their specific pollutant. Many students are looking into methods of sulfur dioxide sequestration, as this is a chemical that affects bee's ability to find and pollinate flowers. For more info: https://www.nationalgeographic.com/science/article/131003-fuel-exhaust-scent-disrupts-signals-honeybees
Of course FRC needed to get in on the bee fun, so 8604 members jumped right in! 8604's community outreach team have been busy bees designing custom bee-themed jewelry. Here are samples of some of our designs.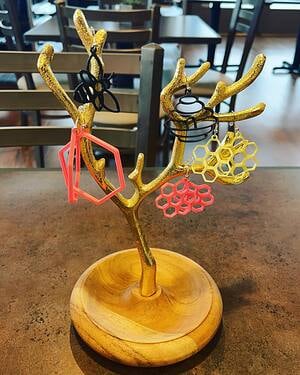 Items will be $3 each and we plan to donate all proceeds to Bee Girl, an amazing women-lead non-profit all about saving our precious bees! For more information on Bee Girl, visit https://www.beegirl.org/
If you are interested in ordering, please fill out the interest form below. We are trying to gauge how many earrings we will need to print. Sales start on May 10th and will run through May 21st. If you fill out the interest form we will email you an order form on 5/10!
Feel free to DM me with any questions or ask on the thread (:
#SaveTheBees #WorldBeeDay #BuzzBuzz