Hey
Our team is trying to turn on an Arduino using one of three USB ports of RoboRIO (Serial Connection). We are following this tutorial: Arduino/RoboRIO Integration - YouTube (minute 11:06)
The problem is that we are using Python for our code and we need a function similar to "new bytes[]" , but we couldn't find any "byte type". We tried using bytes() or bytearray(), but these functions still with problems, such as incompatible arguments of the function (using wpilib.SerialPort.write()).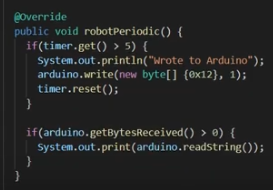 How could we convert this function for the Python syntax?