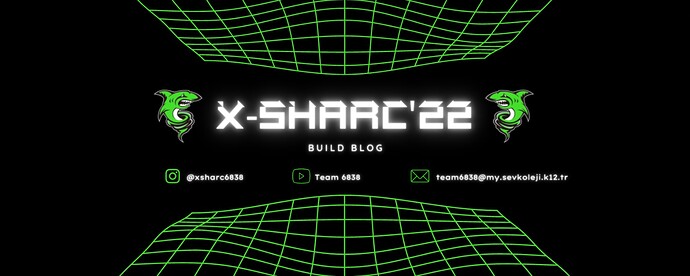 X-SHARC #6838 Build Blog 2022
Team #6838 is very excited to be a part of the #openalliance this year. We are a team from Istanbul, Turkey. We currently have 40+ students and 5 mentors. We'll be sharing everything we go through this season with its ups and downs.
We like to mention that we are not a very experienced team and we are almost entirely student-led. Until this season, we did not have any technical mentors but this season we have one technical mentor and two other mentors who assist with the manufacturing. So, you might know a lot better than how we (try to) do something. If so, do not hesitate to leave some feedback.
Rapid React Season Goals
We want to be inclusive to our new members as much as possible. We want to give them areas to challenge themselves and learn.
We want as many members as possible to participate in the robot assembly.
We want to have a stronger social media appearance and do more outreach.
We aim to follow our build season calendar spot on.
We shoot for winning at least one of the two regionals we compete in as either the alliance captain or the first pick.
We, therefore, aim to qualify for the Champs.
Lastly, we want to make sure all students and mentors are safe regarding the pandemic we all are going through.

Kick-Off
As with most teams, the Turkish teams will not be holding an in-person kick-off event this year. We were planning to do a 118 inspired kick-off with parents and students following a similar structure.
However, the rising Omicron spikes have prevented us to hold a gathering as such with more than 100 participants. So, we switched to a hybrid kick-off event with 20 students physically participating and the remaining members and parents tuning in through a Zoom meeting.
Our Kick-Off organization team has put in a lot of work into tomorrow. They have great workshops and surprises planned which our Kick-Off lead will go in-depth in a separate post.
(For strategizing, we follow a somewhat unfamiliar approach to other teams because of our geographical limitations. The game animation is revealed around 9 pm here in Istanbul, so it is moderately late to strategize. To work around this, we will be handing out worksheets that are revised by 6328 for their kickoff. Thanks 6328, 2791, and 1678! Students will fill these out Saturday night and Sunday morning and submit a photo of it to a Google Form which will later be used in the virtual strategy meeting the same day. )
Regionals
We will be competing at İzmir Regional (March 3-6) Week 1, and also at Bosphorus Regional (March 18-20) Week 3.
Build Season Calendar
For the build season planning, we almost copied our calendar off of 1678. This year, we want to include as many members as possible and be very planned while doing so. So, copying 1678's calendar and doing little tweaks to fit our team's needs, we came up with a pre-season
calendar like this.
You can also view the calendar here: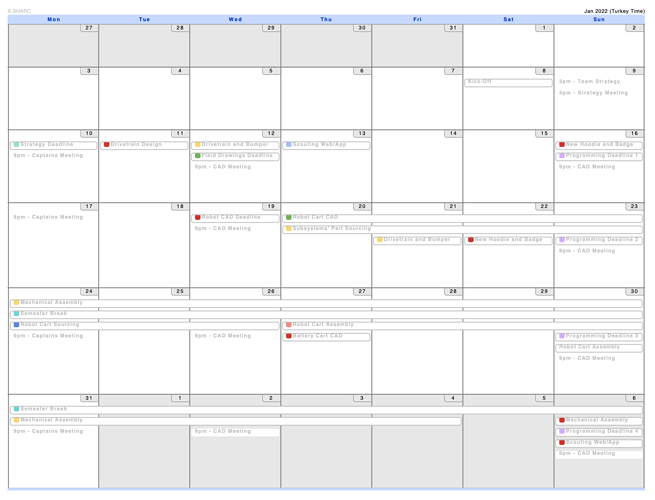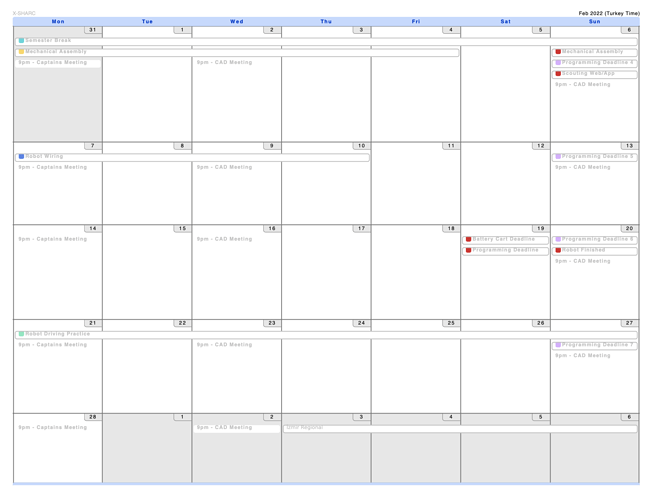 It is great to (hopefully) finally experience the full build&comp season again and this time as a part of the #openalliance.
We'll keep you updated.
Have a wonderful Kick-Off!